Apilus Epilator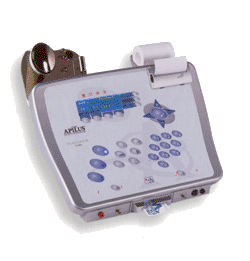 Apilus PLATINUM 27 MHz Epilator
The Permanent Hair Removal Epilator of the 21st Century!
The ultra-rapid 27MHz frequency of the Apilus Platinum Epilator enables hair of all types and colors to be permanently and rapidly destroyed. The 27 MHz frequency is twice as fast as any other epilator on the market. The innovative modes such as the PicoFlash and Synchro allow coagulation in a very concentrated fashion the cells responsible for hair growth, thereby providing incomparable effectiveness and comfort.
Unrivalled Comfort
Thanks to the ultra-rapid 27MHz frequency, the PicoFlash mode of this epilator effectively targets hairs for destruction while offering comfort the likes of which have yet to be seen in permanent hair removal. The PicoFlash current is so quick and concentrated that treatments are barely perceptible. Just a few thousandths of a second suffice to completely eliminate the hair! It is the ideal solution for comfortable, permanent hair removal, whether on the face or any other area of the body.
Scientific Support
See for yourself the impressive results obtained on a hair following treatments performed with the Apilus Platinum Epilator compared to the results of laser treatments. The results are shown here on a cross-section of a hair follicle; and were obtained within the scope of a comparative study conducted in cooperation with Doctor Doillon, research scientist and professor at the Laval University Hospital Center in Quebec City, Canada..
Destruction produced by the laser (fig. 1) during a standard treatment is limited, as shown by the irregular distribution of lesions (dark purple) around the hair follicle. Thus, several cells responsible for hair growth remain intact. On the other hand, figure 2 shows that lesions produced by the Apilus Platinum Epilator during a standard treatment are widespread and evenly distributed leaving no intact cells to regrow.